2019 Updates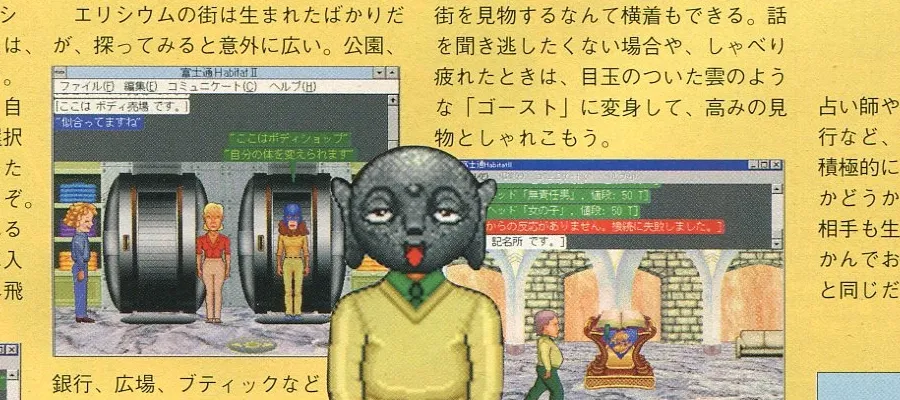 This blog post is a reposting of content from the old updates section. With the new blog format, a seperate updates page was no longer needed.
01/13/2019
Added scans of floppy disks used during the development of WorldsAway by original body artist, Karen Mangum. Those disks contained all of the original artwork she created as a contractor for Fujitsu and you can find that Body artwork here. Finally, our friend Ahirudanna-san scanned in copies of a Japanese gaming magazine with an article on Habitat II from March 1996. You can view that here.
01/08/2019
Added scans of the Pad Nifty & Habitat II CD for the Sega Saturn. You can view the CD, the covers and the manual in full. There's a ton of interesting information to be found and you can view that here.
01/07/2019
Added screenshots of a segment on the KBS News channel in Korea taken from January 2001, featuring footage of Glass City and an interview with a community member. You can watch the video here.
Added screenshots from Keith Elkins Club Caribe video to the Image Archive, which you can find here.
01/06/2019
Reno Project is back and better than before. We had some kind people send some cool stuff our way and it's inspired a bit of a revamp for the site. Everything running on the server has been updated. We've also got a bunch of new scans and pictures uploaded for some real interesting things. We'll also be adding descriptions for every image in the archive if it warrants one. If you like backstory, we've got it in spades!
Here's a brief run down of what we've added so far
Habitat II was not the only virtual world technology Fujitsu were developing. In 1996, after Habitat II had launched, Fujitsu also launched 3D VRML virtual world software called Agora. The Habitat II client had integration built into it and would ping the Agora world server when logging in. The two worlds were seperate but an effort was made to link them throughout 1997. Eventually, VRML pretty much died out and the code languished until February 1999 when it was finally removed from the Habitat II client.
We have screenshots of the Agora world and were also able to obtain a copy of the client. You can view these in the Image Archive.
Thanks to Ahirudanna-san who's been a long time friend of ours, we also have some scans from Japanese gaming magazines featuring Fujitsu Habitat in great detail. We also have a copy of the book "Online Virtual Reality" which was released by Fujitsu Books in 1994. It was written by the former Oracles of Fujitsu Habitat. There are some amazing pictures and stories in there and one day, we hope to translate all of these articles for non-Japanese speakers to be able to read.
We were also alerted to the fact there is some brief video footage available of the Sega Saturn Habitat II client on YouTube which is amazing because we didn't think any existed. Screenshots from this video are available on the site but you can view the video here.
There are also some scans from a Korean gaming magazine of Glass City from March/April 1997 which uncovered some new information. The original Glass City world appeared to be entirely unique based on the couple of screenshots we previously had, but now thanks to these scans, we can see it was a clone of the Habitat II world known as Elysium. It also featured some unique regions as well.
Finally, we now have a Discord server setup for those of you who'd like to come hang out and talk about this stuff. If forums are too formal for you and you enjoy Discords portability, then come check our server out by clicking here